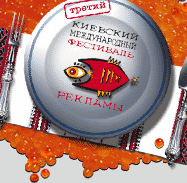 Representatives

Kyiv

Main page

Russian




Program of the third Kiev International Advertising Festival



29.05.2002

Cinema house, 6,
Saksaganskogo Str.
9-00 - 18-00
Participants' registration (Hall of the ground floor)
Red hall
10-30 - 12-30
Review of the contest TV- works of the 3rd Kiev International Advertising Festival
12-45 - 13-45
"Erevan-Baku-Tbilisi" - many problems. Temporary clarifications. Presentation of the Caucasus International Festival of Advertising (CIFA). Georgy Khatiashvily, Tbilisi.
14-00 - 15-00

De Wolfe Limited Music Publishers, London - World's Largest Production Music Library. Mr. Oleg Onopryyenko, Music Agent & Head of Representative in Finland / Malta / Russia / CIS & Baltic Countries.

Show-reel presentation: music created specially for advertising, library music in Russian and Ukrainian advertising. Music in advertising - "Original" or "Library" choice for a producer. How much does the specially composed music cost in Great Britain. De Wolfe Music Search presentation - Music catalogue and search engine for PC/Mac. Database of more than 22000 musical compositions, 11000 musical demos.

15-30 - 16-30

"Movie about movie". Unique special project by "KINOGRAF" studio

Commercial viewed by actors and participants. Unknown takes, comic elements of shooting, VO… The cats to be let out of the bag!

17-00 - 18-30

The New York International Festival of Advertising. Christo Kaftandjiev, Dr. of marketing communications and semiotics, Sofia, member of the Jury of The New York Festivals

The topic of this presentation is one of the biggest world advertising festivals - The New York Festivals:


· its advantages with regard to the advertising world;
· its programs where the ad agencies can participate,
· some of the last awarded ads; etc.

The presentation is done with the help of multimedia, Power Point, and video.
Blue Hall
10-30 - 12-00
Presentation of contest BTL-projects and advertising campaigns
12-30 - 13-30

Master class "Thoughts and emotions in marketing and advertising", Vadim Poustotin, Business development and strategic planning Director, D'Arcy AD agency.

Role of emotional and rational components in advertising. Peculiarities of American and European emotions. Rational and emotional priorities of Ukrainian advertising.

14-00 - 15-00

"Event management". Ways of organization and carrying out of non-standard events, Dialla AD agency.

Usage of complex approach to event organization, possible ways of event planning and organization on the real examples of organization of non-standard events (World Cyber Games for Samsung Electronics, Chestnut Run, etc.).

15-30 - 16-30

Master class on the Internet advertising by Timofey Bokaryev, Promo.ru Director, Moscow, the Head of the jury of "Internet advertising and web-design" contest.

How does the Internet advertising develop: market structure, main players and interaction between them (advertisers, agencies, grounds). Agency's services: what works and what doesn't. Technology in the Internet advertising.

16-45 - 17-45

Media-planning: effective frequency. Tatyana Popova, Media Expert AD agency

New notion in Ukrainian media planning. Short story of effective frequency, main characteristics and ways of usage.

Small Hall
16-30 - 17-00
Press conference of the organizers of the Festival.
PLAZMA CLUB 5á, V.Poryka Str.
19-30
19-30 Party, dedicated to the opening of the festival. AD agency "Style-S" invites

30.05.2002

Cinema house,
6, Saksaganskogo Str.
9-00 - 18-00
Participants' registration (Hall of the ground floor)
Red hall
10-00 - 11-00
Special program from Moscow International Festival of Advertising. Helen Naryshkina, General Director of MIFA
11-15 - 11-45

Blizzard factory. Advertising viewed by the leaders of the brunch. Review of a TV-reel with the people from the best Ukrainian advertising agencies taking part in. Monologue TV programs studio

In the program of review:
- TV reel,
- Presentation of a new PR service
- TV multi-camera event servicing (jubilees, concerts, presentations, conferences, seminars, etc.).

12-00 - 13-00

Business newspaper + radio = effective complex method of goods and services promotion. Delovaya Stolitsa newspaper and 104.6BM Radio (Radio of the Big City). Irina Andyushchenko, Marketing Director, Alexander Antonets, Executive Director of Delovaya Stolitsa Weekly.

Majority of the advertisers consider radio advertising to be one the best binders to the press. Radio advertising helps to have VO of a layout in printed media and to attract additional attention to your advertising message. Now the advertisers have a unique opportunity to influence the business audience of the Kiev, placing Ads both in Delovaya Stolitsa Weekly and on 104.6BM Radio (Radio of the Big City). Accuracy of a hit at business audience and financial benefits.

13-15 - 14-15

Adventa Lowe Kiev. Our 7 creative principles. Ernst Zekely, Austria, Director of ADVENTA LOWE KIEV AD agency

Seven principles of creative success. There are numbers, which importance cannot be overestimated. God created world in seven days. There are seven miracles of the world. Light spectrum consists of seven basic colors. There are seven notes in music and seven days in a week. Does the advertising creativity yield to the magic of the number seven? The answer to this question you may get from Ernst Zekely, Director of Adventa Lowe Kiev creative agency on the Third Kiev International Advertising Festival.

During his master-class "Seven creative principles of Lowe and Partners Worldwide" Ernst Zekely will tell (and show on the examples of TVCs), about the principles, which are the basis of the successful creative work of international AD network Lowe all over the world.

14-30 - 15-30
Master class by Andrey Logvin's, designer (Moscow), the head of the jury of "label and package" and "graphical design" contests.
16-00 - 18-30

"James Bond and Vladimir Propp are for the benefit of advertising - action films in the system of marketing communications", Christo Nikolov Kaftandjiev, Dr. of marketing communications and semiotics of Sofia University, Burglary, the Head of the Jury of Complex Advertising Campaigns contest.

The importance of the "action" communicative strategy for the marketing communications is the topic of this seminar. The participants in the seminar will learn the basics with regard to this leading and postmodern communicative strategy:

· which are its basic components from the standpoint of myth' theory;
· which are its basic narrative elements; · how to use the "action" strategy efficiently depending on different marketing situations;
· what is typical for the product placement from the standpoint of action films; etc.

The seminar is done with the help of multimedia, Power Point, and video. It is highly visualized with the help of many of the world best action films and commercials in this field.

19-00 - 20-00
London International Advertising Awards. Presentation of commercial - winners of LIAA 2001, 1995-2000 - best works, Oleg Beriyev, LIAA representative to Russia and CIS countries.
Blue Hall
10-00 - 14-00

Advertising & Life magazine presents: Master-class: "Advertising and life of brands in post-Soviet times".

10.00 - 11.00 Insight as the basis of brand creation. Valentin Pertsya, Director of brand-consulting company BrandAid, Kiev.

11.00 - 12.00 Peculiarities of small and medium advertiser's branding. Andrey Fedorov, Business development Director of VI Kiev holding, AD agency Abrikos chairman.

12.00 - 13.00 Branding in Russia: tendencies and perspectives. Vadim Zuravlyov, AD agency Mildberry executive Director, Moscow.

13.00 - 14.00 Postmodernism and branding. Experience of competitive eschatology. Samvel Avetisyan, event management director of Darya Company, St. Petersburg.

14-30 - 15-30

"Low budget advertising. Big effect for little money", Pavel Tayanovsky, Vice-president of Linea 12 / McCann-Erickson AD agency.

Master of communication will open 12 of 33 ways of effective advertising. Will explain how to pass 7 sleeping demons for not to wake them up. Will give an opportunity to look behind the window. You will see the role and place of advertising in your activity. You will hear the confirmation of your thoughts. You will feel the harmony of life and power of truth. The world lacks curiosity and good will, not money, knowledge and ideas. The time of changes has come. Are you ready?

15-45 - 16-45
Creative in percents: how can you persuade a client that you are right", B.I.T.A. AD agency
17-00 - 17-30

Exhibition as one of the means of marketing communication", Valery Pekar, President of Euroindex company

Centuries pass, new technologies change the world (from railways to the Internet) and exhibitions and malls still remain popular marketing and sale instruments, because these instruments are improving and change the format according to the market needs What are the exhibitions in XXI century, in century of Internet and globalization? How to use them with the maximum effect? What is their role in postindustrial frame?

17-45 - 19-45
Review of the contest TV- works of the 3rd Kiev International Advertising Festival
Conference Hall
11-00 - 13-00
Round table: "Public council of advertising and All-Ukrainian advertising coalition as the active participants of the building of civilized advertising community in Ukraine"

PROMZONE night club

21-00 - 24-00
Foam party "Nashi on the roller skates" Nashe Radio invites

31.05.2002
Cinema house,
6, Saksaganskogo Str.
9-00 - 18-00
Participants' registration (Hall of the ground floor)
Red Hall
10-00 - 13-00
INTELLECTUAL SHOW by Video International Kiev
13-30 - 14-45
Master class by Christopher Masterson, International Creative Director, Bates Europe, Barcelona, Spain, the Head of the jury of the third Kiev International Advertising Festival.
15-00 - 17-00

"Marquis de Sad and Sigmund Freud - godfathers of AD agencies. Sex, sadism and humor in advertising. Christo Nikolov Kaftandjiev, doctor of marketing communications and semiotics of Sofia University, Bulgaria.

The Cases with Benetton, Smirnoff, Diesel and Many Others The importance of ad appeals of sex, sadism and humor is the seminar' topic. The participants will learn the basics of these appeals - how to use them efficiently depending on different:
· marketing situations;
· marketing variables - consumer groups, products and services, etc.;
· communicative strategies, and sign systems; etc.

The seminar is done with the help of multimedia, Power Point, and video.

17-15 - 18-15
London International Advertising Awards. Presentation of commercials - winners of LIAA 2001, Oleg Beriyev, LIAA representative to Russia and CIS countries.
Blue Hall
10-00 - 11-00

12-30 - 13-30

"PHOTOARTBANK" presents: Modern Ukrainian Photography "WHO IS WHO"

"WHO IS WHO" is the first big project in Ukrainian professional photography. The best photographers (35 participants) presented 15 each for the participation in the CATALOGUE OF PROFESSIONAL PHOTOGRAPHY. Advertising photography, special projects, stock Ukrainian photography. Slide show - 450 works.

14-00 - 15-00
Master-class "Communication in places of sale". Vadim Kulikov, Vitrina A AD Group General Director, Moscow.
15-30 - 16-30

Our experience of private publishing business in Ukraine. KP Publications Publishing house.

History of creation of the publishing house in Ukraine - from 8 000 USD to media holding. Advertising opportunities of KP Publications, one of the strongest publishing and Internet companies in Ukraine: experience of popular Ukrainian editions (Kyiv Post newspaper, Kyiv Business Directory, Korrespondent magazine, Afisha magazine), advertising Internet-agency Netvertising and Internet-development agency Sputnik Development.

17-00 - 17-45
If advertising is a disease, then Reklamania is diagnosis or Reklamania as a remedy from lack of information. SC DOM marketing group.
18-00 - 19-30
Review of the contest TV- works of the 3rd Kiev International Advertising Festival
Small Hall
18-00 - 18-45
Press-conference of the Jury of the 3rd Kiev International Advertising Festival
Red Hall
19-30
Solemn ceremony of awarding the winners of the 3rd Kiev International Advertising Festival.

Strike bowling club 84, Pobeda avenue

Final party - the Festival is on a visit to KP Publications


General sponsor


Official Sponsor