News
Alexey Saj has thought up a new prize for the most creative agency of Ukraine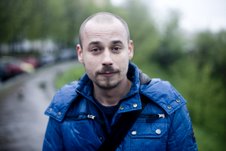 This year KIAF's Organising committee will award winners of the Festival with new prizes. And the All-Ukrainian Advertising Coalition, which conducts calculation of a creative rating and hands over prizes to the most creative agencies in advertising and marketing, decided to give new prizes also.
What is the award for the most creative?
Let's ask the author of awards, the artist, creative director of Sahar and the owner of a prize of the most creative agency-2006 Alexey Saj.
Alexey Saj: "Maxim Lazebnik addressed me with the request to create a prize, which will be handed over to the most creative agency of Ukraine. The problem was that to create something valuable in itself, without certain style, not creative, but expressive, with the possibility of annual duplicating. Lazebnik thought that I will get confused by such a brief. But the problem was absolutely clear to me.
All has turned out as much as possible ugly - I am not the fan of beauty. The main thing is a combination of sense, the form, expressiveness and a riddle which the person will want to solve.
So the monitor on which the colour of a background constantly varies has turned out. A black framework, a white font and fine cyclic movie: «The most creative agency of Ukraine»...
Back to news list